I make this all winter long and even use it for gifts at Christmas. It's quick, naturally gluten free, and different than your typical Christmas cookie. It's a win, through and through.
I am sure you've had or made that toffee recipe with the saltines? We had it every Christmas and it's called "Christmas Crack" for a reason, but it's pretty much terrible for you. Well, this toffee tastes just like that but we get the salt from the salted almonds instead of the saltine crackers. This is "real" toffee, though, made from caramel you cook up in a saucepan. It's like a crisp, thin Werther's Original with a thin layer of chocolate and salted almonds. It's elegant as all get out.
Lastly, a word on parchment paper. Buy some. It's the best. Nothing sticks to it and it can endure 500 degree heat without burning. I heart parchment paper. You can get it at the grocery store.
Bittersweet Chocolate Almond Toffee
2 c. sugar
1/2 c. water
1/2 c. butter
1/2 tsp. kosher salt
1 tsp. vanilla
1 c. bittersweet chocolate chips, chopped
1 c. chopped roasted, salted almonds
1. Line a large, flat baking sheet with parchment paper. If you don't have a large sheet, pull out a large sheet of parchment over a heat proof countertop.
2. Combine sugar, water and butter in a small, heavy saucepan over medium heat. Stir until butter melts and mixture is combined.
3. Bring to a boil. Cook, WITHOUT STIRRING, until syrup turns golden brown and bubbles become small. Remove from heat and stir in salt and vanilla.
4. Pour mixture onto parchment lined sheet and spread to desired thickness. I found that a small, offset spatula worked very well here but the back of a spoon would suffice.
5. Let toffee cool (at room temp) about 30 seconds, then sprinkle with chocolate.
6. Let sit 3-5 minutes, then spread melted chocolate over caramel. If your timing is off and the chocolate isn't all the way melted, you can put the toffee under the broiler for about thirty seconds (watch carefully) to finish melting the chocolate. 
7. Sprinkle chocolate immediately with almonds. Let sit (at room temp) at least 1 hour or until completely cool. Break into pieces.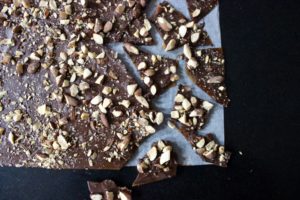 Store toffee at room temp. in an air tight container – ideally in a cool place. Will keep upwards of 1 week – though best served within several days of making.