I always hate when I read about recipes that I can't make because they require a bit of kitchenware I don't own. So why am I doing it to you? Well, because pizzelles are the best.
My Mom-mom Julia would show up to every family gathering with about thirty thousand pizzelles, and somehow they would all get eaten. My mom has taken this on and the huge Tupperware full of them is always nearby. I'll never forget the day my mom subbed for my middle school teacher and she brought her dough and press to use the time to make pizzelles. True story.
You can buy this press, and you won't find an easier recipe as you'll soon see. Some people don't like the black licorice taste of pizzelles, but those are made with anise. My grandmother's are made with a hefty dose of vanilla and this is one of the few places I recommend using real vanilla extract instead of imitation. America's Test Kitchen did their thorough research and determined that imitation doesn't taste any different than real in cookies, cakes and the like. I use real in frostings, puddings, and other applications when the vanilla flavor is more prominent. These are flavored with vanilla, and they're subtly sweet and addictive.
Pizzelles are wonderful with coffee or tea, brunch, or dessert. A big plate of these are always welcome; and if you like making cannoli dip then pizzelles make an excellent dipper. You could even use small pizzelles for petite ice cream sandwiches. This is one childhood treat that I feel needs to live on so I let Tess help me by rolling the balls, just like I used to.
Italian Pizzelles
Makes 5 dozen
6 eggs, room temperature
1 c. vegetable oil
1 tbsp. vanilla extract
1 1/2 c. sugar
1 1/2 tsp. baking powder
5 c. unbleached flour, plus more for dusting
To bring eggs to room temp. for a recipe, place in a bowl with warm water and replace water as needed until eggs are room temp.
1. Whisk oil, eggs and vanilla in a large bowl.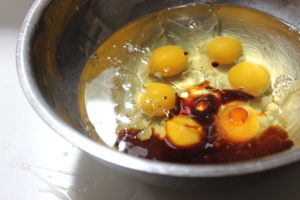 2. Add sugar and blend well.
3. Add 3 cups of the flour and baking powder and mix with spoon until combined. Add remaining 2 c. flour and mix.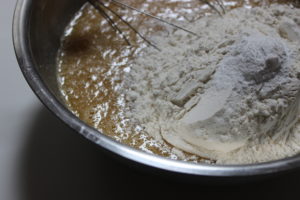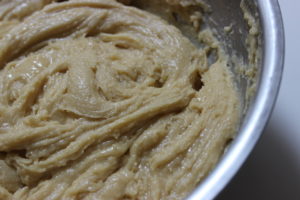 4. Sprinkle the top of the batter with flour and cover with plastic wrap. Chill in fridge for several hours (or overnight).
5. Grease iron lightly with nonstick spray and preheat 15 minutes.
6. Roll walnut sized balls of dough and place in the center of each mold. Press till golden (usually about 30 seconds).
7. Cool on wire rack before stacking.