I was in charge of Brussels Sprouts at Thanksgiving this year (we've been eating sprouts at T-giving way before they were in style – thanks Mom). I somehow stumbled upon this recipe on the Food Network website and, though it wasn't reviewed yet, it looked like an obvious win. It's most of my favorite foods in one bowl. 
For me, this side was my favorite this year (and I'm not just saying that because I made it). The bit of heat from the crushed red pepper, the warmth from the pine nuts and the tangy cheese combined so gorgeously that the chewy, slow cooked bacon was just a bonus. Now, will I be making this for a weeknight? No, roasted Brussels with olive oil, salt and pepper is plenty delicious and subs out several steps, but I intend to make this again for next year's holidays as well as anytime I'm looking for a side dish for entertaining. The nuts can be toasted ahead and technically the bacon can be cooked ahead as well  – just toss it on top of the sprouts for the last minute or two in the oven, just to warm through.
I will say, there is a bit of babysitting involved with this recipe so there can be no kitchen-tv-watching while cooking. The pine nuts and the bacon both need a careful eye as I can attest to; on T-giving day I pitched the first batch of pine nuts and had to start over. PS keep the remaining pine nuts in your freezer. I don't use them frequently but I'm always so glad to have some frozen (they will last at least forever in there).
Roasted Brussels Sprouts with Bacon and Parmesan
Serves 6-8
Adapted from Anne Burrell
2 lb. Brussels Sprouts, trimmed and halved
1/4 c. olive oil
1/2 tsp. kosher salt
1/4 tsp. crushed red pepper flakes
1/3 c. pine nuts
6 oz. slab or thick cut bacon, diced
Block of Parmesan Cheese
1. Preheat oven to 425 degrees. Line baking sheets with foil or parchment paper. Toss sprouts with olive oil and arrange, cut side down, on baking sheet. Sprinkle with salt and pepper flakes. Bake for 20 minutes or until golden brown. Make sure to not over-crowd the pan. You don't want steamed sprouts. Might be worth baking in two batches.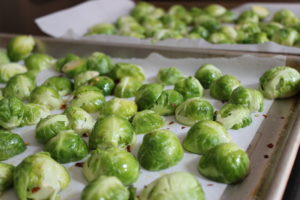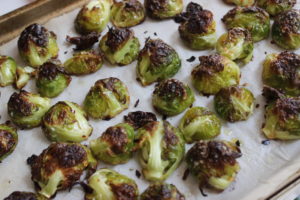 2. Meanwhile, toast pine nuts over medium low heat in dry skillet about 5 minutes or until golden, stirring occasionally and watching carefully.
3. Remove pine nuts when toasted and add bacon to pan. Cook over medium-low heat until fat is rendered and bacon is browned. Remove with a slotted spoon to a paper towel lined plate.
4. Layer sprouts with bacon and pine nuts in serving bowl. Top with shaved parmesan cheese, to taste (shave with vegetable peeler).