I'm a big fan of these Asian dishes where the meat and vegetables cook together in the same sauce. The only required side is rice and since I bake mine in the oven, dinner's finished in twenty minutes. My fave is this beef and edamame dish but this was a tasty, and even healthier, alternative.
Typically I avoid short cuts (like prepared sauces) because they can be loaded with sugar, salt and preservatives. A few caveats. Frozen veggies, when they work in a recipe, are a fantastic time saver. Why clean, trim and steam green beans when they come prepped (and just as healthy). A warning, if you like your green beans with a nice crisp bite you will want to do the extra work of fresh beans – just add a few tablespoons of water to beans in the pan, cover, and cook for several minutes before adding the sauce/shrimp. These were on the softer side but for the sake of my sanity, I chose to ignore my preferences.
Also – cooked shrimp. You can buy fresh and deal with the tail and the "poop" and cook them yourself. Have at it. I found this to be just fine for a wintertime meal. Worried about zesting an orange? Buy a microplane grater if you don't have one already. Life changer. Remember to taste for salt – I like salty and I added a few big pinches of kosher salt to the mixture once it was done. The walnuts at the end? Make sure you toast them – it lent a nice buttery crunch to the green beans.
Baked Rice – combing 1 1/2 c. brown rice, 2 1/2 c. boiling water, 1 tsp. salt and 1 tbsp. olive oil to an 8×8 baking dish and stir. Cover with foil and bake in 375 degree oven for 1 hour. Fluff with fork and serve.
Citrus Chili Shrimp and Green Beans
Serves 4
1/2 c. walnuts
Zest of 1 orange
Juice of 1 orange
3 tbsp. hoisin sauce
2 tbsp. Tamari or soy sauce
1 tsp. chili paste or Sriracha
3 cloves garlic, minced or pressed
2 tbsp. toasted sesame oil
2, 12 oz bags frozen haricot vert (skinny green beans), steamed in bag
12 oz. frozen cooked medium or large shrimp, thawed
1 bunch scallions, thinly sliced
Salt, to taste
1. In a large nonstick skillet, toast walnuts over medium heat until fragrant, stirring frequently. Set aside to cool, then roughly chop.
2. In a small mixing bowl, stir orange zest, juice, hoisin, tamari (or soy), chili paste, and garlic until smoothly combined.
3. Heat now empty skillet over medium high and add sesame oil.
4. Add green beans (drain from excess water) and toss to heat through and coat in oil.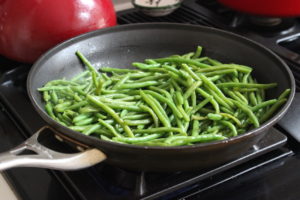 5. Add shrimp, sauce and scallions. Stir to coat and heat through. Taste for salt.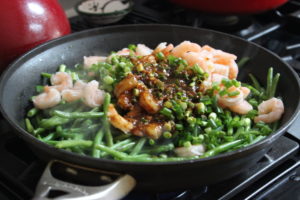 6. Plate, topped with walnuts.