Another Beth recipe! She sent me this recipe for weeknight crockpot chili and, though I have a crockpot chili on my site already, this deserves a place as well. Let me explain…
My pantry is pretty basic, but always stocked. There are pastas and grains, beans (black, chickpea, cannelini and kidney) and tomatoes (crushed, diced, paste). There are baking staples like canned pumpkin, applesauce and coconut milk. I could go on, but what I'm trying to explain is that I like to keep the ingredient list of the pantry items to one or two words, aka the applesauce has apples. Beth's recipe had me buying an item I've never bought before – sweet chili sauce. After tasting the two sauces I realized that is where the flavor comes from; there's no need to add cumin, chili powder or oregano. Though it just minimized a few steps, it sure felt easy when I was throwing it together at seven in the morning. This is a sweeter chili, which I balanced with the addition of salt and heat from the cayenne. Don't like heat? Leave that out and this is 100% mild.
I'll say I still like the complexity of this beef and black bean crockpot chili better but for those of you who are a pinch less picky and prefer a sweeter chili, this simple, healthier (the beef gets drained in Beth's recipe but the fat contributes to the flavor – and calorie count – of mine) version is a great weekday dinner, especially if you serve it with the sharpest white cheddar and sliced scallions.
*I use organic beef from Costco, sold in 1.3 lb. packages. You can probably use a 1 lb. package and keep everything else the same.
Beth's Easy Crockpot Chili
Serves 4-6
1.3 lb. ground beef
1 lg. onion, diced
1 (28 oz) can chunky crushed tomatoes
1 (15 oz) can black beans, drained and rinsed
1/2 bottle (6 oz) Heinz Chili Sauce
2 tbsp. Maggi Mild Sweet Chili sauce (found in Thai food section in regular stores)
2 red, yellow or orange bell peppers, diced
1/2 tsp. kosher salt
1/4-1/2 tsp. ground cayenne pepper, to taste
Sharp cheddar and scallions for serving
1. Cook ground beef in large skillet over medium high heat until no longer pink. Add to crockpot.
2. Add onion, tomatoes, beans, sauces, bell peppers, salt and cayenne. Cook on low for 6 hours.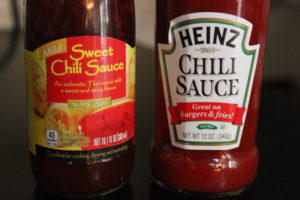 3. Serve, topped with cheddar and scallions.