A second recipe from Lynnie, and another winner. This was linked from a blog and I changed it a bit, but the general idea is all hers. These made for a tasty dinner (with peas and salad because it was all I had on hand) but next time I'll make them for a party. A bit of work, I won't lie, but nothing hard. 
I realized as I was prepping the ingredients that most of the recipes I've worked on lately are pretty easy with minimal cleanup. I scanned the instructions and thought to myself, food processor? For weeknight dinner? That being said, some people who read this might not have two young kids and might not mind a little extra effort.
One thing I LOVED about this recipe was its suggestion of Rice Chex for GF breadcrumbs. I got the store brand version, still GF, for $1.39. A typical bag of gluten free breadcrumbs can run much higher that that, and the box of cereal makes a huge amount. There is a bit of sugar in the cereal (2 grams per serving) so it works best for an application like this, where there is sweetness abounding in the overall flavor.
The appeal is hard to miss – bright green cilantro, crunchy almonds and tender, sticky sweet chicken. Even without the crushed red pepper, this chicken has some serious kick. All adults will be fine, but if you have kids who are picky just skip the sauce dunking. I kept out several pieces for the kids and they were pumped for their "chicken finger" dinner. Oh, no need for GF? Use all purpose flour and Panko breadcrumbs (2 cups).
Thai Sticky Chicken Fingers
Serves 8-10 for appetizer, 4-6 for dinner
3/4 c. all purpose gluten free flour
1 1/2 tsp. kosher salt, divided
1/2 tsp. black pepper, divided
3 lb. boneless skinless chicken breasts, cut into tenders *
2 eggs
2 tbsp. milk
4 c. Rice Chex cereal
1 c. sliced almonds, divided
1/4 c. chopped cilantro
Sauce
2/3 c. sweet chili sauce
2/3 c. water
1/4 c. brown sugar
1/4 c. tamari
3 tbsp. rice vinegar
Juice of 1 lime
1 tsp. ground ginger
2 garlic cloves, minced
Crushed red pepper flakes, optional
*If making for dinner, feel free to leave the chicken as breasts
1. Combine flour, 1/2 tsp. salt and 1/4 tsp. pepper in a large mixing bowl. Add chicken and toss to coat.
2. Process 3/4 c. of the almonds in food processor until finely ground and transfer to large, shallow plate. Add cereal to now empty food processor and grind into uniform crumbs. Add crumbs to almonds along with remaining 1 tsp. salt and 1/4 tsp. pepper. Stir to combine.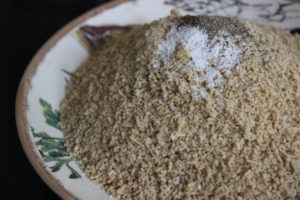 3. Beat eggs and milk in a shallow bowl.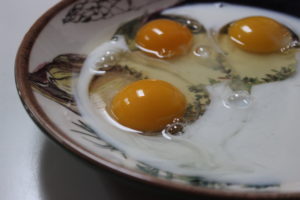 4. Prepare two baking sheets by lining with foil and spraying well with nonstick spray.
5. Shake excess flour off each piece of chicken then dunk in egg. Let excess drip off then toss with crumb mixture until completely coated. Lay on prepared baking sheets and continue with remaining chicken.
6. Chill baking sheet with chicken for 30 minutes.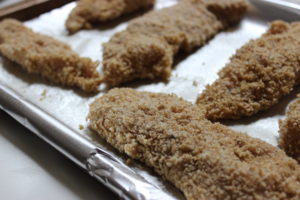 7. Preheat oven to 425 degrees. Spray chicken with nonstick spray on one side and place in oven; set timer for 10 minutes.
8. Remove from oven, turn chicken over and spray with nonstick spray. Return to oven for 7 minutes.
9. Meanwhile, combine sauce ingredients in small saucepan over high heat. When mixture boils reduce heat to low and cook for 5-8 minutes or until reduced and slightly thickened.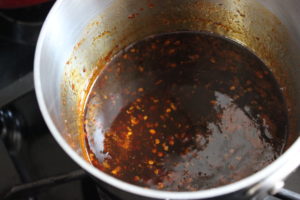 10. Dunk each piece of chicken into sauce, completely covering. Return to baking sheet. Bake for 5 minutes.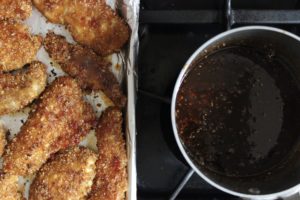 11. Sprinkle chicken with remaining almonds and cilantro. Serve.