I love casseroles in theory; in actuality they're usually full of ingredients I avoid at dinnertime. I'm talking egg noodles, sour cream, canned soup, spice packets, etc. I also need it to be easy; I don't want to cook each part separately then put it together just so I can call it a one-dish-meal. This checked all the boxes and it's a dieter's dream; full of protein and low in calories. 
This would be great to make on a Sunday afternoon if your typical work days ends late. Scooped into bowls and reheated on Monday (and maybe Tuesday) and served with some mixed greens or veggies, it's a beautifully healthy and easy meal. This would also be the ideal meal for a new mom or a family in need. Egg, dairy, and gluten free, it can be made in a disposal pan and brought with a box of mixed greens (and a bottle of wine, hello).
Chicken, Quinoa and Cashew Casserole
Serves 4
1 c. quinoa, rinsed
1 white onion, diced
2 red/yellow/orange bell peppers, diced
4 raw chicken breasts, cut into bite sized pieces
1/3  c. hoisin sauce
2 tbsp. soy or Tamari sauce
1 tsp. Sriracha, or more to taste
1 c. water
1 tbsp. minced fresh ginger
1 tbsp. minced garlic
1 c. toasted cashews
1/3 c. sliced scallions
1. Preheat oven to 375 degrees. Spray a 9×13 or 8×11 inch baking dish with nonstick spray.
2. Spread quinoa in bottom of the dish. Top with onions, then bell peppers.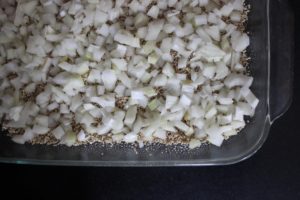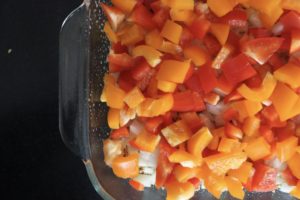 3. Top with chicken, then sprinkle with a pinch of salt and pepper.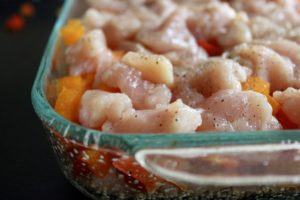 4. Mix hoisin, soy/tamari, sriracha, water, ginger and garlic until blended. Pour evenly over chicken.
5. Bake uncovered for 45 minutes. Sprinkle cashews over the top and bake for another 10 minutes.  Remove and top with scallions; serve.