When Beth sent me this recipe, I was thrilled. I was lucky enough to eat some of this at a playdate over five years ago, and being that it's deliciously memorable, I remembered it. I made it for a friend's sprinkle and it was a hit! I've already forwarded the recipe to several friends (within several hours of them eating it) and now I'm happy to share it with the world wide web. Basically there's a buttery, caramel-y base on every bite, so it's perfectly sweet without the addition of syrup. It's ahhhmazing. 
Ok this is easy. EASY. It's not necessarily "fancy". There's no brioche or custard sauce or fruit to be found (save a few unnoticeable raisins in the bread). As is often the case, food that is simple is simply delicious. I might, in the future, try this with Food for Life's cinnamon raisin bread and swap the butter for coconut oil and the brown sugar for maple syrup. If you beat me to this healthy swap, let me know how it turns out.
For a crowd, though, at a brunch OR if you're having guests overnight, this is a fabulous option. Just an FYI, I prepped it around 2 in the afternoon the day before and didn't bake it until the next morning at 7 – worked perfectly. I'm happy to have the photos to go with this because the original recipe asked you to "layer the bread" and the only reason I didn't stack the slices on top of each other was because I'd had it before. Now, when you make it for the first time, the pictures can help! Enjoy this, I know you will.
Beth's Baked French Toast
Makes 9×13
2 tbsp. light corn syrup
1 c. light brown sugar, packed
1 stick butter, melted
1/2 tsp. salt, divided
1 loaf Pepperidge Farm Cinnamon Swirl Bread
6 large eggs
1 2/3 c. milk
1 tsp. vanilla
1. In the bottom of a 9×13 inch baking dish, whisk corn syrup, brown sugar, melted butter and 1/4 tsp. salt until combined. Spread evenly across the bottom of the pan.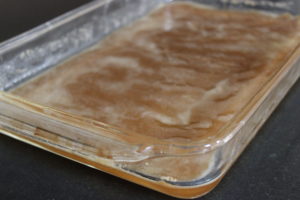 2. Layer bread slices into pan, as shown.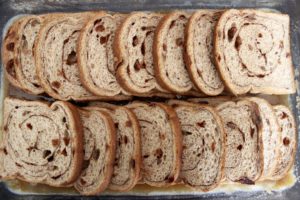 3. Whisk eggs, milk, vanilla and remaining salt until combined. Pour over bread. Cover with foil and place in the fridge overnight.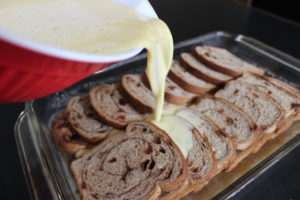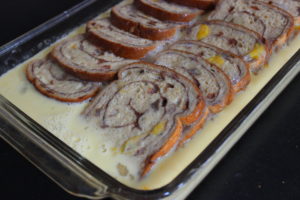 4. Preheat oven to 350 degrees. Bake, covered, for 25 minutes and then remove foil; continue to bake for 20 more minutes. Let sit five minutes, cut into squares and serve, with additional maple syrup if desired.