You might not know, but these are back. It makes total sense, because with all the exclusion diets out there, eggs seem to be the only thing nobody's mad at. Since mayo is dairy and gluten free (and it's usually in the filling), this is the sort of snack you can feel confident sharing with your most high maintenance friends (unless they eat "raw", in which case just bring them a bag of carrots and wish them luck). 
This recipe was shared from my friend Liz. She shared three and I intend to make them all, but the eggs came first. Ok, how awesome is her Aunt's name? It should come back into rotation (along with Deviled eggs). There was a note at the bottom of the page that explained how Aunt Eulalie was not known for her cooking, but her deviled eggs were her speciality; they stand up to the competition at every event. You go, Aunt Eulalie!
These are classic and delicious. The method listed below for hard cooking eggs is the most recent method from America's Test Kitchen and its THE BEST. The shell literally falls off when peeling and the yolk is velvety smooth and a perfect pale yellow. If you don't own a steamer basket it's right here on Amazon, give it an order.
Lastly, a word on method. You must carefully measure your ingredients here, because a little bit too much vinegar can ruin the batch. Lastly, if you like nice full Deviled eggs, use 4 tbsp. mayo. Alright folks, whether you want to indulge some nostalgia or cook for your friend who is in the first month of Whole30, get into the kitchen! You will be eating these in less than 30 minutes.
Aunt Eulalie's Deviled Eggs
Serves 6
6 large eggs
1 tsp. apple cider vinegar
1/2 tsp. Worcestershire sauce
1/4 tsp. dry mustard
1/4 tsp. salt
3-4 tbsp. mayonnaise
Paprika
1. Place two inches of water in a medium saucepan and set over medium heat. Place steamer basket inside.
2. When water boils add eggs to basket, cover, and set timer for 13 minutes. Meanwhile, prepare a bowl of ice water and set it next to the stove.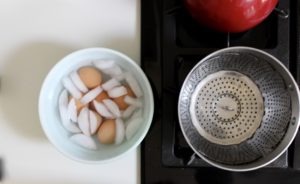 3. When timer goes off, remove eggs to ice bath. Let sit until cool, about ten minutes.
4. Peel and slice eggs in half vertically. Place yolks in a mixing bowl and add vinegar, Worcestershire sauce, mustard and salt. Mash until smooth with the back of a fork.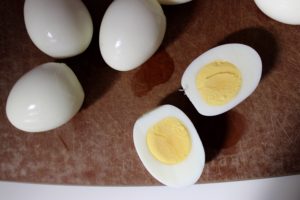 5. Add mayonnaise to bowl and stir to combine. Using a small spoon, fill cavities of egg whites with yolk mixture. Sprinkle with paprika and serve, or refrigerate until ready to serve.