This recipe is a favorite of the Norbury family though it was originally from this website. Carrie has made some changes over time so I took her suggestions, plus made several of my own. These were absolutely delicious, and though it seems like a long list of ingredients, most of them are in your spice cabinet and it takes about two minutes to put them all in a bowl. As someone who is just "eh" about fish, I will be writing this spice rub on a post-it and putting it on my cabinet door; no more boring fish in my house. 
The spice rub and the avocado cream sauce are really what makes these great; if you'd like to sub out different toppings, feel free. These have some solid heat, but if you want more, add sliced jalapenos on top. Don't want to chop up a head of cabbage? Buy a bag of coleslaw mix. Do you eat gluten free? Sub for corn tortillas (I, personally, hate corn tortillas). Now that I'm on the other side of this, I'm realizing it worked just fine for a weeknight dinner (maybe a tad more work than I'm used to) but it'd be excellent for company. Let them dress their tacos as they like. You can make everything ahead except toasting the tortillas; just reheat that fish because nobody likes cold fish (or people described as cold fish).
Blackened Fish Tacos with Avocado Cream
Serves 6
1 tbsp. paprika
2 tsp. garlic powder
2 tsp. dried oregano
2 tsp. onion powder
1 tsp. cumin
1 tsp. kosher salt
1 tsp. brown sugar
1/2 tsp. cayenne
1.5 lb. thin white fish
2 tbsp. canola oil
Sauce
Flesh of 1 avocado
1/2 c. sour cream or full fat Greek yogurt
1/4 c. cilanto
Juice of 1 lime
1 jalapeno, seeded and roughly chopped
1/2 tsp. kosher salt
Tacos
12-18 small Flour Tortillas (or gluten free)
1 small head red cabbage, thinly sliced
1/2 red onion, thinly sliced
Cilantro, for topping
Lime
1. In a small bowl, combine spices. Lay out fish and sprinkle on both side of fish, rubbing in to evenly cover.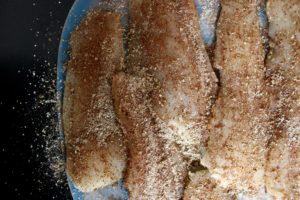 2. Heat oil in large skillet over medium heat. Add fish to pan and flip once, until fish is opaque throughout. Transfer to a plate and continue with remaining fish.
3. Meanwhile, combine avocado cream ingredients in a blender and puree until smooth. Transfer to a bowl.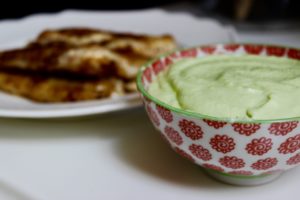 4. Toast tortillas on an open gas burner (over low heat), flipping once with tongs, until toasted and blackened in a few places.
5. Assemble tacos by breaking fish into 2 inch pieces and laying down the middle of each tortilla. Top with cream sauce, cabbage, cilantro, a squirt of lime and cilantro.