When we lived in downtown West Chester, walking up to town for dinner happened a fair amount (especially when the weather was nice and before we had two kids). In working out that 80/20 rule of healthy eating, this meant I ordered salads a fair amount. Now solidly in the burbs, a dinner out requires a minimum of a ten minute drive, so it happens much less frequently. When I am out, I want one of three combinations. Wine and pizza, beer and cheeseburgers, or guacamole and margaritas.
A vat of guacamole. When the server comes to clear the platters it looks like there had never been guacamole in the bowl at all, for how well I "clean it". Margaritas on the rocks with salt, please. I'm pregnant, by the way, which is why I'm going into such detail about the drinks I can't have.
So I make a lot of guacamole but don't have a recipe on here because I make it different every time, depending on what I have on hand. I like minced red onion, chopped tomato, lime and cilantro. Lots of salt. Jalapeno if I have it, scallions if I don't have red onion. When I read America's Test Kitchen's version of "great guacamole", I was happy to see it contained many of the ingredients I already like in mine. There were a few nuanced techniques that they guaranteed gave superior results, so I gave it a go. Pretty sure I'll never make it any other way. It was fantastic.
I changed the recipe just a bit, using one more avocado (and then more of everything else to correspond) and a jalapeno instead of a serrano pepper. I kept the method the same, though, which I'm pretty sure makes all the difference. Please try this and tell me it's not the best thing you've ever eaten.
Guacamole
Serves 4-6 as an appetizer
1/4 c. finely chopped white onion
1 jalapeno pepper, seeded and minced
1 tsp. kosher salt
zest of 1 lime
2 tbsp. fresh lime juice
4 ripe avocados, halved, pitted, and cut into 1/2 inch pieces
1/3 c. cherry tomatoes, chopped
3 tbsp. finely chopped cilantro
1. Place onion, pepper, salt and zest on a cutting board. Run your knife through the ingredients, mincing them finely together. Transfer to a mixing bowl.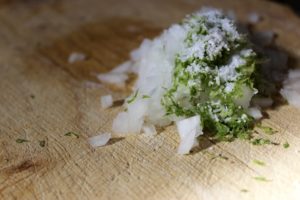 2. Add lime juice and stir to combine.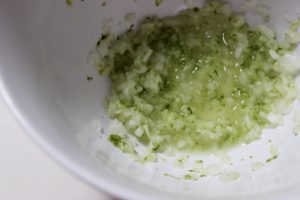 3. Add avocado and whisk mixture until smooth with just some chunks of avocado. Stir in tomatoes and cilantro. Transfer to serving bowl. If storing, cover with plastic wrap with the plastic pressed tightly against guacamole.