Let me tell you something – if you like buying organic meal but dislike the price of organic meat, then drumsticks are for you. At Trader Joe's I got 10 drumsticks for a total of about $7.00. Per edible ounce, they are the most inexpensive cut of the chicken, not to mention really fun to eat. 
Now, you could slather some BBQ sauce on them and throw them on the grill till they look cooked, but if you want perfectly tender, fall off the bone, highly flavorful drumsticks then I suggest you follow the directions below; the recipe is from America's Test Kitchen and as always, their attention to detail more than pays off. Sometimes I think their written recipes can seem a little confusing so hopefully this version, pictures and all, make it clear and easy. Perfect for warm weather grilling, you've got to try this recipe. We will be making it again very soon. OH if your kids don't like spice, omit the cayenne from the rub.
BBQ Grilled Drumsticks
Serves 6
1/2 c. salt
Cold water to cover
5 lb. chicken drumsticks
Spice Rub
3 tbsp. brown sugar
1 tbsp. paprika
1 tbsp. chili powder
2 tsp. garlic powder
3/4 tsp. salt
3/4 tsp. pepper
1/4 tsp. cayenne pepper
1. Place salt in a large mixing bowl. Add cold water and stir to dissolve salt. Add chicken and make sure it's submerged (add more water as needed). Cover with plastic wrap and refrigerate for 30 minutes or up to 1 hour.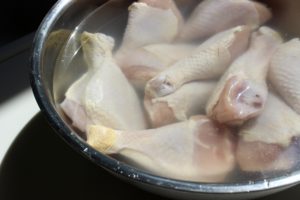 2. Meanwhile, make spice rub by whisking all ingredients together in a shallow bowl.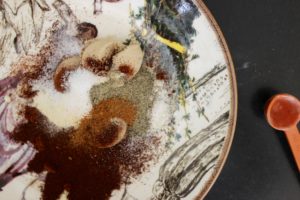 3. Dry each drumstick with paper towels and roll in spice rub until evenly coated. Meanwhile, heat grill on high for 15 minutes.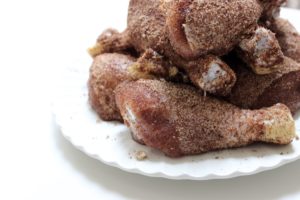 4. Clean and oil grill grates, then turn off one burner (or two of the three, if you have three). Arrange drumsticks over turned-off burner(s). Cover and cook 25 minutes.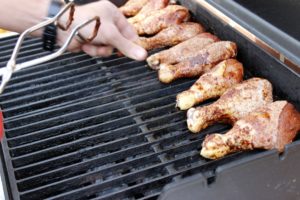 5. Rearrange drumsticks so that the ones farthest from the heat source are now closer, and the close ones are farther away. Cover and cook for another 25 minutes. Remove from grill and tent with foil, 10 minutes. Serve.