I love carrot cake, and in the past have used this recipe, on my blog for years now. So what made me use naptime this past Easter Sunday to make a cake instead of laze around, enjoying the 80 degree weather? America's Test Kitchen absolutely fabulous looking, tricked-out version of my old favorite. 
The picture showed a square cake, dredged in toasted pecans, with thin layers of cake and a ton of frosting. My usual layer-cake complaint is the inadequate cake to frosting ratio. Not so here. With each cake layer being no thicker than an inch, there's a ton of frosting insurance.
Not to mention time-saved. The cake bakes quicker and cools quicker, being that it's so thin. My "tasting panel" in the balmy, late afternoon sunshine consisted of my parents, my in-laws and my kids (poor Rich ate a bowl of leftover frosting). My mom, who has a fab carrot cake recipe herself which she uses frequently since it's my dad's favorite dessert, declared this ATK version to be superior and demanded the recipe. America's Test Kitchen does it again!
Pecan Carrot Cake
Barely Adapted from America's Test Kitchen
Serves 16-20
1 3/4 c. all purpose flour
2 tsp. baking powder
1 tsp. baking soda
1 1/2 tsp. cinnamon
3/4 tsp. nutmeg
1/2 tsp. salt
1/4 tsp. cloves
1 1/4 c. light brown sugar
3/4 c. vegetable oil
3 large eggs
1 tsp. vanilla
2 2/3 c. peeled, shredded carrots (about 4)
Frosting
2 sticks unsalted butter, softened
3 c. powdered sugar
1/3 c. buttermilk powder
2 tsp. vanilla
1/4 tsp. salt
12 oz. cream cheese, chilled, cut into 12 pieces
2 c. pecans, toasted and finely chopped
1. Preheat oven to 350 degrees. Grease an 18 x 13 inch rimmed baking sheet with nonstick spray then press a sheet of parchment paper into pan. Grease parchment as well.
2. Whisk flour, baking powder, baking soda, cinnamon, nutmeg, salt and cloves together until blended.
3. In a larger mixing bowl, whisk sugar, oil, eggs and vanilla until smooth. Stir in carrots.
4. Stir in dry ingredients, then pour batter into prepared sheet. Spread with offset spatula to smooth.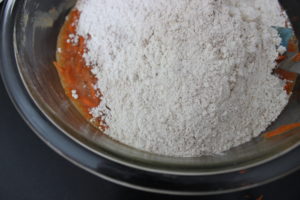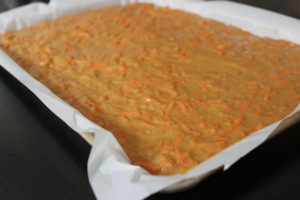 5. Bake for 16-18 minutes or until the center is firm to the touch. Remove and let cool about five minutes. Invert onto cooling rack and then re-invert onto second cooling rack. Let cool.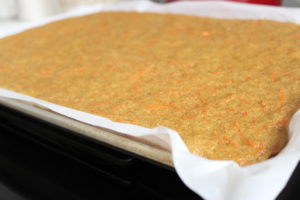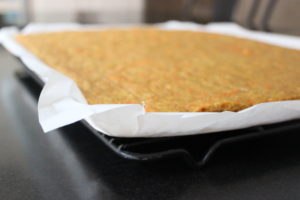 6. Meanwhile, make frosting. With electric mixer, beat butter, powdered sugar, buttermilk powder, vanilla, and salt until smoothly blended. Add cream cheese, one piece at a time. Once cream cheese is all added, beat mixture for 2 minutes or until smooth.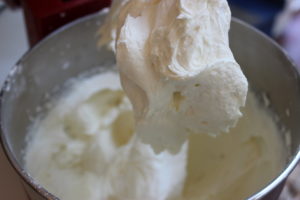 7. Transfer cake to cutting board (parchment side down still). Using a sharp knife and/or scissors, cut cake into four even rectangles. Transfer one square to plate or cake stand, parchment side up. Remove parchment paper.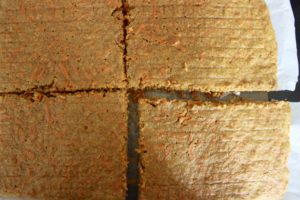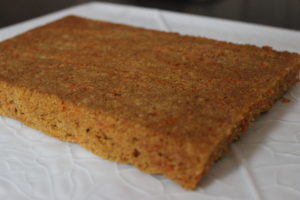 8. Spread about 2/3 c. of the frosting over square. Repeat with second square, and another 2/3 c. frosting. Repeat with third square and another 2/3 c. of frosting.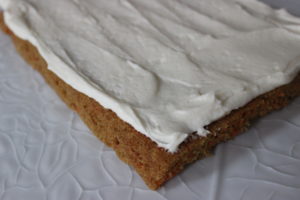 9. Place the final square of cake onto top. Remove parchment and carefully frost the top of the cake.
10. Use remaining frosting to cover sides of cake (no need to make it smooth).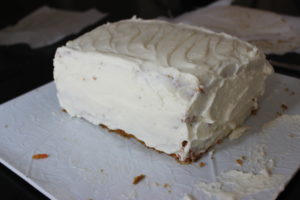 11. Press pecans into sides of cake and chill until ready to serve.