I had chicken, and I'd bought some pretty baby bok choy at the Grower's Market. What to do. I found myself looking at a very simple recipe on some website – made it and loved it with a few tweaks to make it more "one dish". It was so easy (and tasty) I decided to make it again the next week and share the final version with you. If you're anything like me, healthy all-in-one-dish meals are a fixture and I'm always looking for new ones. 
Do you bake your rice? I know I talk about this way too much but if you're not doing it yet, you should start. Maybe you buy Uncle Ben's brown rice in a bag and it's ready in five minutes – that will work here too. I have a pretty glass canister on display in my kitchen that holds about fifty pounds of brown rice, so I do mine from scratch. I'll include my recipe but if you do the 5 minute thing, then just layer that rice (you'll need about 6 cups worth) into a 9×13 casserole dish and start on step 2.
What I loved about this dish is that the sauce amount was generous so not only was the chicken gorgeously moist, but the bok choy and rice was salty and delicious in its own right. There wasn't a bad bite in this dinner. With one big scoop my plate was filled with a healthy grain (rice is technically a seed, fun fact of the day), green veggies, and lean protein. This works fine for a weeknight, but if you serve this to company I think some broiled/grilled asparagus or even some baked sweet potato wedges would complete the plate beautifully.
As for method – get your rice cooking right away, then you have about thirty minutes to do something else (or sit and flip through a magazine). If you get your bok choy started when your rice is about 10 minutes from finishing, the timing will be perfect. The rest goes pretty quickly so it'd be good to have your chicken prepped, garlic pressed, sauce made and scallions sliced (ok forget the mag, this is what you do for the first 30 minutes).
Chicken, Bok Choy and Rice Casserole
Serves 4-6
Rice
2 c. brown rice
3 c. boiling water
1 tbsp. olive oil
1 tsp. kosher salt
Casserole
3 tbsp. olive oil, divided
9 sm. heads baby bok choy (just over 1 lb), halved lengthwise
1 1/2 lb. boneless skinless chicken breasts, cut into thin filets
Salt and Pepper
2 c. chicken broth
3 tbsp. tamari or soy sauce
2 tbsp. corn starch
1 tsp. honey
3 cloves garlic, minced
1-2 tbsp. sesame seeds
1/4 c. thinly sliced scallions
1. Preheat oven to 375 degrees.  Combine rice, water, salt and olive oil in a 9×13 inch baking dish. Cover with foil and bake 1 hour. Remove foil and fluff rice with fork.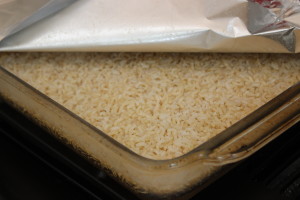 2. In a large nonstick skillet, heat 2 tbsp. of the olive oil over medium-high heat. When shimmering, add bok choy, cut side down, fitting as many as possible. When browned (or about 3 minutes), flip and brown on second side.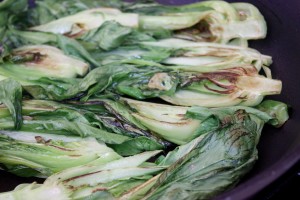 3. Transfer bok choy to top cooked brown rice in an even layer.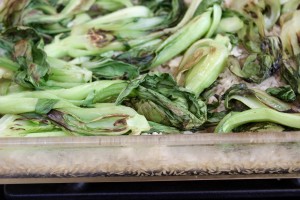 4. Reduce heat to medium. In now-empty pan, add remaining 1 tbsp. oil. Salt and pepper chicken on both sides and arrange in pan. Cook until browned and flip. Cook until browned and just cooked through. Arrange chicken on top of bok choy.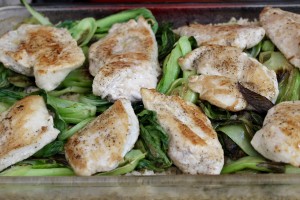 5. While chicken cooks, whisk chicken broth, tamari, cornstarch and honey in a small mixing bowl until combined.
6. Add garlic to pan and saute about 30 seconds, stirring constantly, until fragrant and light brown. Stir sauce to make sure cornstarch hasn't settled to the bottom and add to garlic in pan. Let cook, whisking frequently (scrape the bottom of the pan as it cooks) until sauce has thickened. Pour over chicken in pan.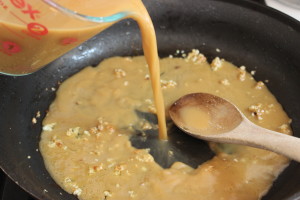 7. Top with sesame seeds and scallions – serve.