I can't even type out this recipe without thinking of my initial reason for making them. I found a snake. In my house. Two feet from my feet. In a dark room. And then I'm pretty sure I blacked out. 
Besides one very frightening moment when the snake slithered into an AIR VENT, all was well when my neighbor Ralph caught the snake and escorted him back to the woods. I hate snakes, and couldn't go back to the "snake room" for days. Don't ask me how he got in the house, because I don't know the answer and spend a lot of time trying not to think about how long he was in here, or where else I could have discovered him.
These cookies were Ralph's thank you, along with a note extolling him as my "knight in shining armor". My husband was chagrined that I've never called him this title, and I told him that when he figures out how the snake got in the house and solves the problem, he'll hear it plenty.
These cookies are for the serious chocolate lover. Quite brownie-esque, they're a perfect after dinner treat that's all the sweet you need.
Double Chocolate Cookies
Adapted from Bon Appetit
Makes 3 dozen
1 1/3 c. bittersweet or semisweet chocolate chips
1/2 c. plus 2 tsp. all purpose flour
3 tbsp. unsweetened cocoa powder
1/4 tsp. baking powder
1/4 tsp. salt
1 c. plus 1 tbsp. sugar
5 tbsp. unsalted butter, softened
3 large eggs
1 1/2 tsp. vanilla extract
1 c. semisweet chocolate chips
1. Heat oven to 350 and place an oven rack in center position. Place 1 1/3 c. bittersweet/semisweet chocolate chips in a glass mixing bowl and microwave 1 minute. Stir and microwave another minute. Stir till smooth and completely melted. Set aside to cool, at least 15 minutes, stirring occasionally.
2. Whisk flour, cocoa powder, baking powder and salt in a small mixing bowl and set aside.
3. Beat sugar and butter with electric mixer until crumbly, about 2 minutes.
4. Add eggs, one at a time, beating until smoothly incorporated. Add vanilla. Beat mixture 3-5 minutes on medium speed or until pale and light. Fold in cooled chocolate. Fold in dry ingredient mixture until just mixed. Add 1 c. chocolate chips and fold until just mixed in.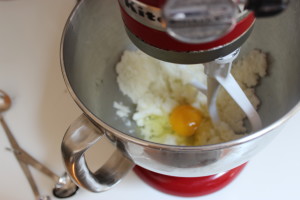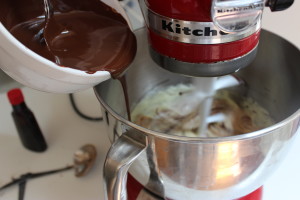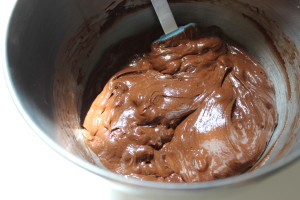 5. Line a baking sheet with parchment paper. Drop batter by heaping tablespoons, spacing two inches apart and two inches from edge of pan. Bake on center rack, 10-11 minutes or until set. Let cookies cool 10 minutes before transferring to wire rack. Store at room temperature in an airtight container.