Because it was so wonderfully written, I'm introducing this dish with her explanation, in her words. "The story behind this dish: My dad is Cuban and my mom is American. Growing up in Miami, I spent a lot of time at my grandparents house and my Abuela (grandmother) was an incredible cook. This was one of my favorite meals. When I became an adult I wanted to learn to cook all of the amazing things that she so lovingly made. I asked her for recipes, but she didn't use them. She said, "You will just have to watch me." I would watch intently and take notes and she would giggle and say, "Remember, it's about tasting it. You can write it down, but each time I make something it is probably a bit different. I just taste it until it's right." This particular recipe was tough because she cooked it in a stove top pressure cooker. To be honest, they scared me and I knew I needed to come up with another way to produce the same result. I was comfortable enough using a slow cooker and decided that was the best option for me. So I tasted my way to a recipe my family loves. Ropa vieja means old clothes in Spanish. This dish is aptly named because the meat is shredded like tattered clothes." Susan Rodriguez Ford
So many reasons why I'm happy I made this. First, I LOVE recipes that don't waste anything – the veggies cooked with the meat are chopped up and add body to the final sauce. This is a naturally gluten and dairy free meal. There isn't a ton of salt used and the reason why is VINEGAR – like lemon juice it's an acid that reduces the need for salt. This made my house smell AMAZing, and my meat-loving husband couldn't really have been more pumped.
Next time I make this I will use a different cut of meat. Flank steak holds up to a longer cooking time, but it also can be grilled or broiled (quick cooking beef cuts are pricier). I might try a chuck roast or round steak – they come from the shoulder and back legs of the cow and are tougher (but also more flavorful and less expensive). With the slow-cooker's long, moist cooking method, the meat should hold up just fine. I know there are a lot of ingredients in this recipe, but many of them are used in both the main course and the side. If you buy garlic, two bell peppers and two onions, you're good to go. Also nice? You're forced to open a bottle of wine but that just means it will breath all day and be good to go for dinner.
Cuban Slow Cooked Steak and Beans – Ropa Vieja
Serves 4-6
2 lb. flank steak, trimmed of excess fat
1 white or yellow onion, sliced
1 bell pepper, seeded and sliced
3 cloves garlic, smashed
2 tsp. kosher salt
1 tsp. black pepper
1 tsp. cumin
1/2 c. red wine
Water to cover meat (about 2-3 cups)
1 tbsp. olive oil
1 (6 oz) can tomato paste
1 tsp. dried oregano
1/4 tsp. black pepper
1/4 tsp. kosher salt
1 (8 0z) can tomato sauce
2 c. strained cooking liquid from slow cooker
2 tsp. white vinegar
Cuban Black Beans
1 tbsp. olive oil
3/4 c. diced white onion
1/2 c. diced bell pepper
3 cloves garlic, minced
1 tsp. dried oregano
1/2 tsp. cumin
1/2 tsp. kosher salt
1/2 tsp. ground coriander
1/2 tsp. garlic powder
1/4 tsp. black pepper
2 tbsp. apple cider vinegar
1 c. water
2 (15 oz) cans black beans, drained and rinsed
1. Turn slow-cooker on low heat for 6 hours or high heat for 4. Add steak. Add onion, pepper, garlic, salt, pepper and cumin. Add wine and water to cover meat.
2. After 4-6 hours, remove meat to a cutting board. Strain veggies and juices over a 4 c. liquid measuring cup – reserve veggies and broth separately. Finely chop veggies. Shred and chop meat.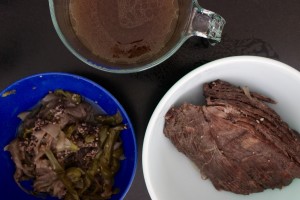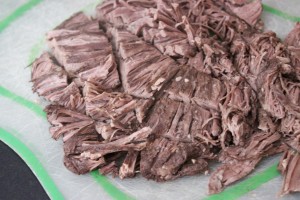 3. Heat a large skillet over medium heat. Add olive oil. Add reserved veggies and saute about 8 minutes. Add paste along with oregano, pepper and salt. Stir frequently and let cook five minutes.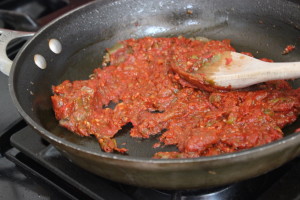 4. Add tomato sauce, 2 c. reserved broth, and vinegar. Stir to combine. Add meat and stir. Let cook, stirring occasionally, until liquid has reduced and sauce "clings" to meat, about 30 minutes.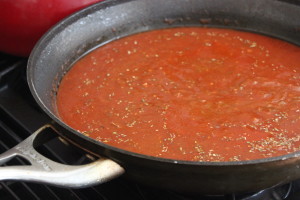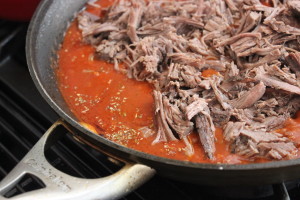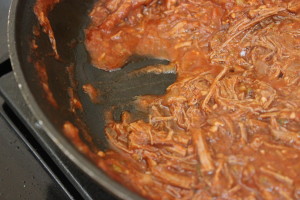 5. Meanwhile, cook beans. Heat a medium saucepan over medium heat. Add olive oil, pepper, onion, and garlic. Saute until softened, about five minutes. Add oregano, cumin, salt, coriander, garlic, pepper and vinegar and stir. Add beans and water and simmer for 30 minutes or until liquid has mostly reduced.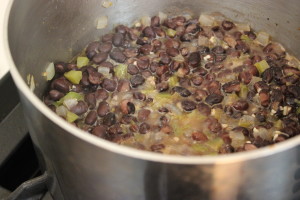 6. Serve meat over cooked brown rice with beans.