August calls for frozen desserts – especially ones that can be made ahead. I was tempted to put the word "healthy" in the title but "healthier" is the one that makes more sense. I mean, it's still pie. 
This is the sort of treat that looks decadent and hard to make but is actually pretty darn easy. I made my own graham cracker crust but you could buy that – I also had some fudge sauce already made in the fridge but once again, the purchased version would work great. If that's the case, this literally comes together in 15 minutes.
This pie also provides a great way to get kids involved in the process. I had Tess slice bananas with a butter knife, and Leo whirred the food processor. They loved watching the coconut toast because it takes mere minutes, and all of their help really ensured their willingness to try out the end result. Not sure about your kids but mine are wary of new foods, even ones that look as appetizing as this – but I always notice a huge shift when they help me put it together. It's fairly low sugar so I could justify it as an afternoon snack – major mom bonus points.
Banana Split Frozen Pie
Serves 8
Crust
1 sleeve honey graham crackers
1/4 c. sugar
4 tbsp. unsalted butter, melted
Pie
3 bananas, divided, sliced
16 oz. mascarpone cheese (can sub cream cheese if desired)
1/2 c. powdered sugar
1/8 tsp. kosher salt
1/2 tsp. cinnamon
1 tsp. vanilla extract
2 tbsp. cream or milk
1/2 c. unsweetened coconut
1 banana, sliced
1/4 c. purchased chocolate sauce or fudge sauce
Canned whipped cream, for garnish
1. Heat oven to 300. Food process graham crackers and sugar until finely ground. Transfer mixture to bowl and add melted butter. Stir to combine. Press into glass pie plate using a measuring cup to tamp down firmly across the bottom and up the sides of the plate. Bake for 10 minutes. Place in freezer to chill.
2. Meanwhile, process 2 bananas, mascarpone, sugar, salt, cinnamon, vanilla, and milk/cream until smooth. Pour into chilled crust and smooth with offset spatula or the back of a spoon.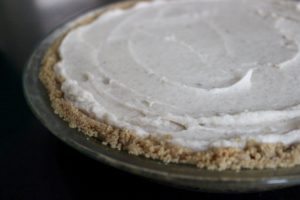 3. Cover with plastic and freeze pie two hours or overnight.
4. Heat a skillet over low heat and add coconut. Stir and watch carefully – remove from heat when coconut is golden brown. Cool.
5. Top pie with coconut, remaining banana (slices), chocolate sauce and whipped cream. Serve or re-freeze until ready to eat. Let thaw about 10 minutes before slicing.