In level 1 cooking one of the first things we talked about was how to understand a recipe. See, the thing is, if you understand how to read a recipe and how to do what the recipe tells you, you can cook. This muffin recipe supports and exemplifies that statement – let me explain.
Universal Baking Rules
1.     Ingredients are listed in the order they are used.
2.    Directions can be found under the ingredients list as well as IN the ingredients list.
If a direction ever confuses you, just look to the list of ingredients. For instance, because the grated apples, eggs, sugar and applesauce are supposed to sit for 10 minutes, it makes the most sense to start with them (and that's why they're listed first). You can then measure and mix your dry ingredients during that 10 minute time period, making the most of your time in the kitchen. If you follow the recipe as written, the muffins can be in the oven just twenty minutes after you start.
If you are a self-professed "terrible baker", please listen! You can absolutely change this. Learn to read a recipe! Look up terms like "fold", "mince", "zest" if you don't know their exact meaning, and then follow recipes just as they're written to (usually) great results. Once you get the swing of things you can start to make some changes to suit your own tastes. There are things you can change, and things you really can't, and experience is the best teacher.
This recipe was originally from Joy of Cooking. I subbed whole wheat flour, swapped and reduced sugar, added applesauce and reduced butter (generally "healthified" the muffins). Don't be afraid to add those walnuts – though high in calories and fat, they are one of the best foods you can possibly eat in terms of "healthy fats". These muffins would be a great snack for your kids or a quick breakfast (spread with almond butter for added protein!). They are super moist due to the grated apples. The kid's destroyed these.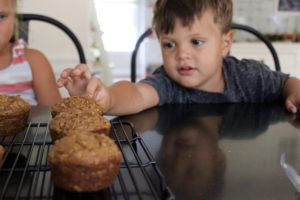 Whole-Wheat Apple Walnut Muffins
Makes 15
2 large eggs
1/2 c. packed brown sugar
1/2 c. natural applesauce
2 medium apples (1 1/2 c.), peeled, cored and grated
1 1/2 c. white whole wheat flour
2 tsp. baking powder
1 tsp. baking soda
3/4 tsp. kosher salt
1 1/2 tsp. cinnamon
3 tbsp. unsalted butter, melted
1/2 tsp. vanilla
1/2 c. chopped walnuts
1. Preheat oven to 400 degrees. Spray a 12 c. standard muffin pan with nonstick spray (spray a second pan as needed).
2. Whisk eggs, brown sugar, and applesauce in a large bowl. Add grated apples and stir to combine. Let mixture sit 10 minutes.
3. Meanwhile, whisk flours, baking powder, baking soda, salt and cinnamon a medium mixing bowl.
4. Add butter, vanilla, and walnuts to apple mixture and stir to combine.
5. Add dry ingredients to wet and fold in gently until just combined.
6. Divide batter evenly into muffin tin, filling each hole 2/3 of the way full.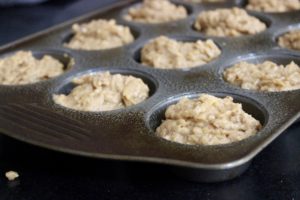 7. Bake for 14-16 minutes or until muffin is set in the top center (touch gently with finger tip). Let cool 5-10 minutes in muffin tin then remove to wire rack to cool completely.