Not sure if it's just BBQ overload or what, but I've been seriously craving classic comfort foods. Shepherd's pie, something we ate occasionally growing up, is typically a beef, onion, pea mixture that's topped with mashed potatoes. It's a great dish for folks like me, who not only don't mind when the food on their plate touches, they prefer it. 
This version is different – the filling underneath the potatoes is like a delicious chicken stew. The mushrooms, sherry, and thyme combo is one of my favorites, and the cornstarch/chicken broth mixture makes it seem "creamy" without dairy. Plus, it's pretty much packed with veggies but packed in a "sauce" that makes them all taste the same; the kids ate up their dinner, no questions asked. I think the next time I make this, I'll put some biscuits on top, a la chicken pot pie. My g-free husband can pick his off and the rest of us can enjoy the goodness.
A quick parting word on butter. I've seriously been digging it lately (almost 32 weeks pregnant at this point). Costco sells a big pack of Kerry Gold butter, salted, so that's become our "eating butter" and I keep the cheap stuff around for baking. Kerry Gold comes from grass-fed cows, and maybe it's just my heightened sense of taste, but it's 100% better tasting than the regular stuff (and better for you to boot). I was putting refined coconut oil on my toast for the past few years, with a sprinkle of kosher salt, and this is still good but man-oh-man is butter delicious. If you haven't tried it yet, grab it on your next shopping trip. Worth it.
Chicken and Mushroom Shepherd's Pie
Serves 6-8
Topping
2 lb. Yellow or white potatoes, peeled and cut into 1 inch. chunks
3/4 c. milk
3 tbsp. butter
3/4 tsp. kosher salt
Filling
2 tbsp. olive oil
14 oz. white button mushrooms, stemmed, halved, and thinly sliced
1 onion, diced
1/2 tsp. kosher salt
1/2 tsp. dried thyme
1/2 c. dry sherry
1 3/4 c. chicken broth
2 tbsp. corn starch
2 c. cooked, shredded or cubed chicken
1 1/2 c. frozen mixed vegetables
1/4 tsp. pepper
1. Heat oven to 400 degrees. Place potatoes in a medium saucepan and fill to cover with cold water. Bring to boil and reduce to simmer. Cook 12 minutes. Drain and add milk, butter and salt and mash with potato masher.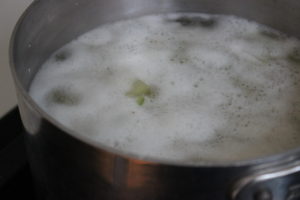 2. Meanwhile, heat olive oil over medium high heat in a large nonstick skillet. Add mushrooms and onion and cook, stirring occasionally, until liquid is released and mostly evaporated and mushrooms are turning golden brown.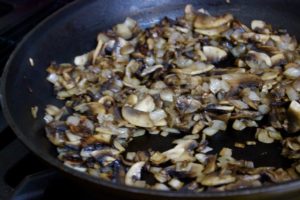 3. Add salt and thyme and stir to combine.
4. Add sherry and cook, stirring occasionally, until liquid is almost absorbed.
5. Whisk chicken brown with cornstarch in measuring cup until combined and add to skillet. Stir occasionally and let cook until thickened.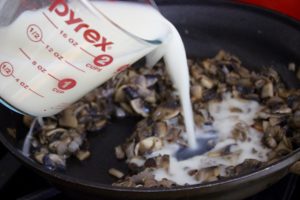 6. Add chicken, vegetables and pepper and stir to combine. Add salt to taste.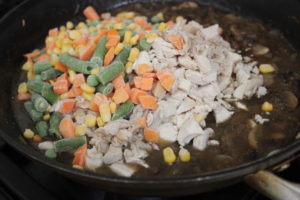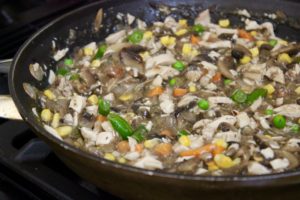 7. Pour mixture into 9×13 glass baking dish. Top with potatoes and smooth to cover the top. Bake for 30 minutes or until potatoes are browned in spots and filling is bubbling. Serve.